+91 9785166786 / +91 7014886855






Fatehpur Sikri Tour
Fatehpur Sikri was Akbar's capital for approximately 12 years. Akbar selected Sikri as the seat of his government believing it to be auspicious for himself. He experimented both with architecture and art and built a city expressing his ideals and vision. Today, Fatehpur Sikri is a deserted, phantom city. But the inner citadel is immaculately preserved. The finest monuments in this area are the Diwan-e-Am, Diwan-e-Khas, Panch Mahal, Buland Darwaza and the tomb of Saint Sheikh Salim Chishti, and the Jama Masjid (one of the largest mosques In India).
Jama Masjid or the Friday Mosque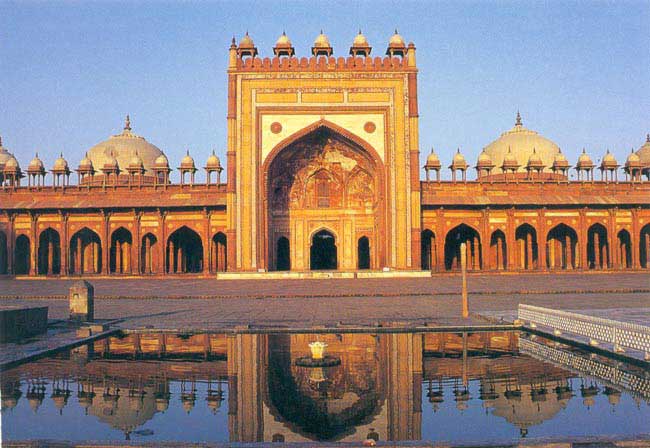 Also known as the Dargah Mosque, this is said to be a copy of the main mosque at Mecca. Its noted for its design which has persian and Hindu elements. The monumental 54 meter high Buland Darwaza, the Gate of Victory, is the main entrance. It was constructed to commemorate Akbar's victory in Gujarat. A koranic inscription upon it read, "The world is a bridge, pass over it but built no house upon it. He who hopes for an hour, hopes for Eternity, for the world is but an hour". Just outside the gateway is a deep well where in local daredevils leap from the top of the entrance into the water. The Shahi Darwaza is the official entrance, where licensed guides can be hired.
Tomb of Shaikh Salim Chisti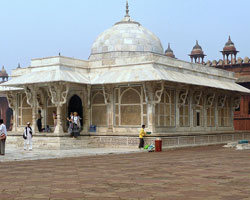 The tomb visited by many seeking ful filment of their wishes was built in 1570. The carved marble lattice screens (jalis) are simply remarkable. Within the courtyard is the another tomb of Islam Khan, the saint's garden.
Place of Jodha Bai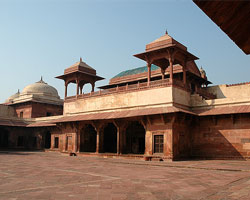 This was the principal harem wing for Akbar's Hindu wives, over which Jodha Bai, mother of Salim (emperor Jehangir) presided imperiously from her spacious purdah - screened salon. The architecture of the building is a blend of styles with Hindu columns and Muslim cupolas The walls of the Hawa Mahal or Palace of the winds are made entirely of stone latticework.
Birbal Bhawan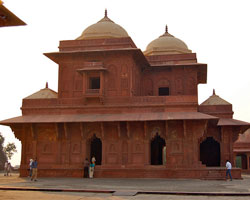 This casket like palace belonged to Raja Birbal, Akbar's brilliant Brahimin prime minister, one of the "None Jewels of Akbar's Court". The palace fronts onto the Lower Haramsara, which was once believed to be an enormous stable with nearly two hundred enclosures for elephants, horses and camels.
Panch Mahal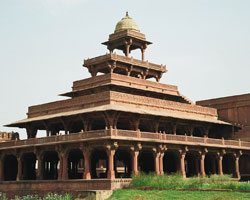 A five storied architectural marvel and Akbar's personal citadel of pleasure, where he would spend his evenings with the ladies of the harem. Nearby is the Astrologer's seat, an ornamented pavilion where the resident astrologer played an important role in day to day court life.
Diwan-e-Khas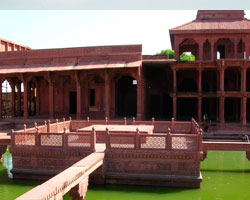 Fatehpur Sikri's architectural gem, this structure is unique for its interior decoration. This single vaulted chamber is dominated by its massive central Lotus Throne Pillar that supported Akbar's throne. This stone column support a flat topped dome which is 6 meter high.
Diwan-e-Aam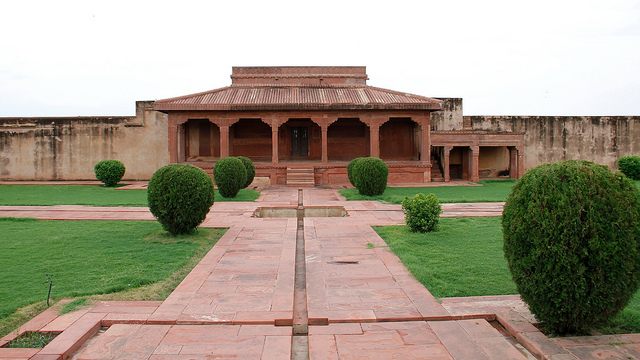 This hall of public audience was designed for large public gatherings. Nearby is Pachisi courtyard, where akbar and his courtiers used slave girls attired in brilliant dress as piece of pachisi (a game similar to ludo), moving when ordered on a giant marble board.
Destination
Tours Gallery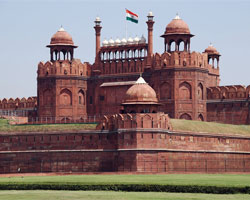 Red Fort - Delhi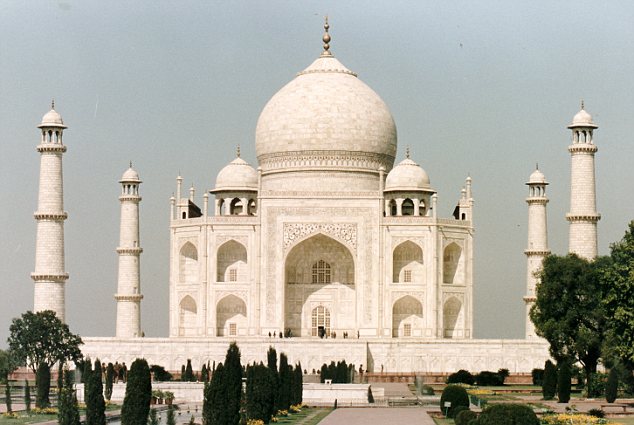 Taj Mahal - Agra