+91 9785166786 / +91 7014886855






Ranakpur Tour
Light colored marble has been used for the construction of this grand temple which occupies an area of approximately 60 x 62 meters. The temple, with its distinctive domes, shikhara, turrets and cupolas rises majestically from the slope of a hill. Over 1444 marble pillars, carved in exquisite detail, support the temple. The pillars are all differently carved and no two pillars are the same. It is also said that it is impossible to count the pillars. Also all the statues face one or the other statue. There is one beautiful carving made out of a single marble rock where there 108 heads of snakes and numerous tails. One cannot find the end of the tails. The image faces all four cardinal directions. In the axis of the main entrance, on the western side, is the largest image.
Jain Temple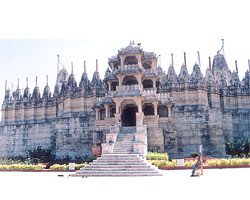 Built during the rule of Rana Kumbha, these temples have included Ranakpur in the list of five main pilgrim destinations of Jains in India. History has it that Rana Kumbha donated a vast stretch of land to Dhanna Shah so as to enable him to realize his dream of building a great temple. Today, these temples attract thousands of visitors every year from across the country and abroad.
The dating of this temple is controversial but it is largely considered to be anywhere between the late 14th to mid-15th centuries. Inspired by a dream of a celestial vehicle, Dharna Shah, a Porwad, is said to have commissioned it, under the patronage of Rana Kumbha, then ruler of Mewad. The architect who oversaw the project is said to have been named Deepaka.
Maharani Bagh Orchard Retreat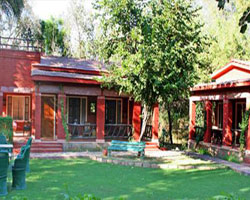 Maharani Bagh Orchard is located just 4 kms north of the famous Ranakpur Jain temple. Situated at the base of the Aravalli hills, these mango orchards were laid out in the late 19th century by the wife of Maharaja Takhat Singh of Jodhpur. The orchard has a lots of shady trees as well, and under them are several cottages with all modern amenities. The cool and peaceful atmosphere invites a large variety of exotic bird life. The guests can spend several peaceful hours watching birds or generally relaxing.
Narlai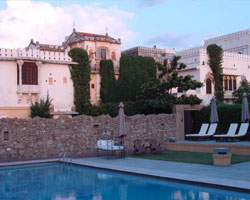 Lying at the base of a hillock, on the top of which is a statue of an elephant, Narlai has many Hindu and Jain temples. The temple of Adinath is an ancient one. The outer 'mandap' of the temple has beautiful mural paintings on its ceiling which still retain their original splendor.