+91 9785166786 / +91 7014886855






Kumbhalgarh Tour
Kumbhalgarh is about 84 km from Udaipur which is situated in the north western Rajasthan. Kumbhalgarh is one of the finest examples of defensive fortification in Rajasthan. Kumbhalgarh stands on the site of an ancient citadel dating back to the second century AD, belonging to a Jain descendant of India's Mauryan emperors. Kumbhalgarh is famous for its 15th century fort and a game sanctuary. Kumbhalgarh, the fort city is well connected to the other parts of Rajasthan by road. The Kumbhalgarh fort was the second most important fort of the Mewar kingdom after Chittorgarh. This fort is rising from a prominent ridge at a height of 1914 meters high from the sea level. The fort was built between 1445 and 1458 AD by Rana Kumbha. Kumbhalgarh Fort provides an excellent view of the countryside. The huge stone bastion stands atop a hill and allows access through spiked gates. The fort is 36 kilometers in length. The fort has the longest wall in the world after the Great Wall of China.
Kumbhalgarh Wildlife Sanctuary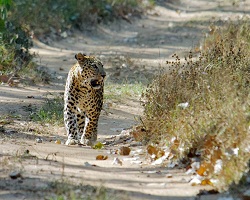 Kumbhalgarh Wildlife Sanctuary houses some of the rare species of animals - leopard,bear,deer. One can find activities of the wolf in the sanctuary which is not find in any other forests.