+91 9785166786 / +91 7014886855






Bundi Tour
Bundi, the historical place is in the south-eastern Rajasthan. It nemed after Bunda, a meena chiften. The state of Bundi was founded in 1342 by Rao Deva of the 'Hada' chieftain of the Chauhan clan of Rajputs. Bundi nestles in a narrow valley, enclosed by strong walls and fortified by four gateways. In the centre of the township lies a lake. A medieval fortress stands sentinel to this city a mute witness to history and time. Bundi is famous for its intricate paintings, murals, historic places, battle walls and the Chhatries of kings. Bundi is situated 35 km away. North-west side of Kota.
Taragarh or the Star Fort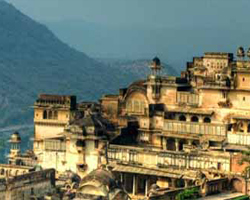 This white fort on the top of a thickly wooded hill is one of the most impressive forts in Rajsathan. It has a big tank which once supplied water in the palace.
The Palace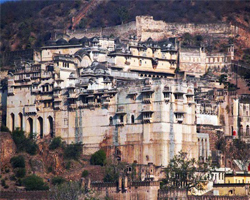 It was begun by Maharao Balwant Singh and is considered to be one of the finest examples of Rajput architecture.
Chitrashala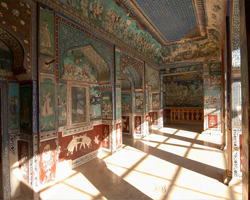 The Palace at Bundi has a beautiful pavilion and a gallery of Murals in the miniature style which was built by Raja Chattrasal. The walls are covered with elaborate paintings of scenes 'Ragamala' and 'Raslila' the-Radha-Krishna story. The colour scheme of all these paintings is strictly beautiful with all the colours of the rainbow.
Chattar Mahal or Palace of Towers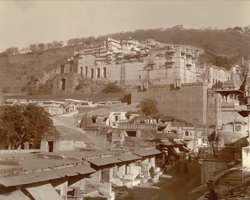 A steep, paved way leads to this monument. The Hazarat Pole or Gate of the Thousand, the Naubat Khana, the Hathi Pole with curious old water Clock and the Diwan-i-Am are some places of interest.
Rattan Daulat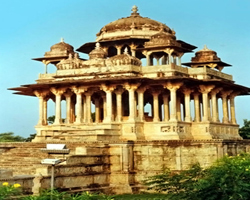 It was built by Rao Raja Ratan Singhji. This structure forms stables for nine horses and a Hatia Pol.
Naval Sagar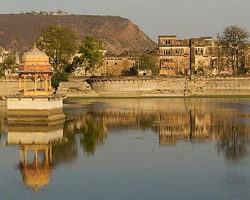 This artificial lake was built by Maharaja Ummed Singh. The position of the lake, reflecting the entire city and palces gives Bundi its uniqueness.
Ranjit-ki-Baori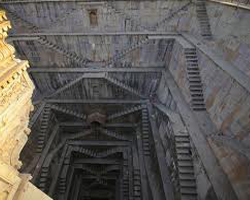 Outside the old city walls is a largest 46 meter deep stepped well with arched gate, ornated with excellent carvings on its pillars.
SuKh Mahal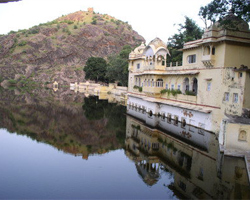 A summer palace built on Sukh Sagar Lake is set in a beautiful formal garden.
Shar Bagh
Near the Shikar Burj is an old well-maintained garden where cenotaphs of the kings and queens of Bundi stand in all their rich architectural splendour.
Chaurasi Stambh Chhatri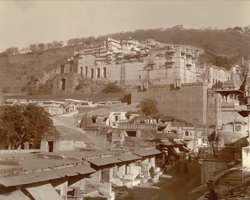 This remarkably well constructed memorial erected by Rao Anirudh in 1683 AD has 84 pillor in this single Chhatri along with a Shiv-linga.
Accommodation
RTDC Hotel Vrindavati, Circuit House, Dak Bungalow, Shivam guest house.
Destination
Tours Gallery