+91 9785166786 / +91 7014886855






Jodhpur Tour
Jodhpur, the former capital of Marwar state, was founded in 1459 by Rao Jodha, who claimed descent form of Lord Ram. The massive fort Mehrangarh came first and around it grew the city of Jodhpur protected by a high 10 km. ston wall with 7 gates. The city has grown on sides to become the 2nd largest city of rajasthan. Jodhpur is 318km. away from Jaipur.
Jodhpur is still one of the leading centres for cattle, camels , salt and agricultural crop.
Mehrangarh Fort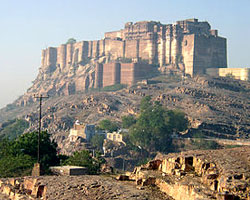 It is situated on a 125 metre high hill , which is protected by a 120 ft high surrounding wall with several bastions. There are three entrance gates. It houses some of the most intricately adorned palace- Moti Mahal (Pearl Palace), phool Mahal (flower palace), Sheesh Mahal (Mirror Palace), Sileh khana & Daulat khana. You can view the collection of palanquins, howdahs, royal cradles, miniatures, musical instruments, costumes and furniture.
Jaswant Thada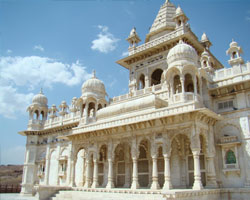 A cluster of royal cenotaphs in white marble lies very close to the fort. It was built in 1899 in the memory of Maharaja Jaswant Singh. The cenotaphs also house portraits of the of Jodhpur.
Umaid Bhawan Palace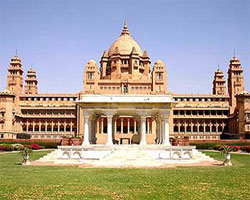 Umaid Bhawan Plalace: The only palace to be built in the mid 20th century. It was built using redstone and marble. Now most of the palace is converted into a hotel.
Grirdikot and Sardar Market
It is located in the heart of Jodhpur, these colourful markets throb with activity. Tiny shop dot the narrow larnes and a wide range of handicrafts make this area charming.
Government Museum
This museum has a rich collection of weapons, textiles, miniature, portraits, local crafts and images of Jain Trithankars. It is situated in the middle of the Umaid Public Gardens.
Excursions
Balsamand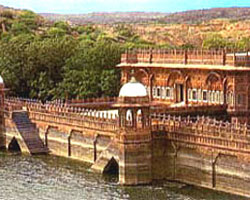 (5km) A pretty lake with a pleasure (Summer) Palace on its banks. It is an ideal picnic spot, was built by the Parihar King Balak Rao in 1159.
Mandore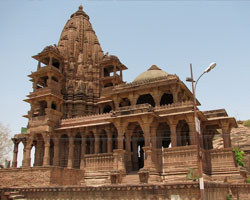 : (8 km) the ancient capital of Marwar is situsted towaeds north side. It contains the cenotaphs of Jodhpur rulers and sixteen gigantic figures carved out of a single rock depicting popular hindu and folk deities in bright colours. The area is surround by landscaped garden with high rock terraces. It is an ideal picnic spot.
Accommodation
Deluxe Hotels: Umaid Bhawan, Ajit Bhawan Palace. Standard Hoteles: Hotel karni Bhawan, RTDC Hotel Ghoomar, Hotel Rajputana Palace. Budget Hotels: Krishna Prakash Heritage Haveli, Hotel Haveli.
Shopping
A shopper's paradise. The intenationarry known Jodhpuris embroidered shop , white metal curios and silverware , quilts, wooden toys, leather goods. paintings and tie- and- dye fabrics. The main areas are Sojati Gate, Tripolia, Mochi-ki-gali, Lakhara Bazar.
Destination
Sightseeing Tours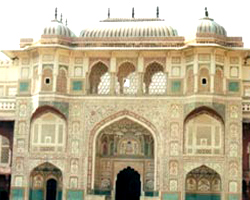 Amber Fort - Jaipur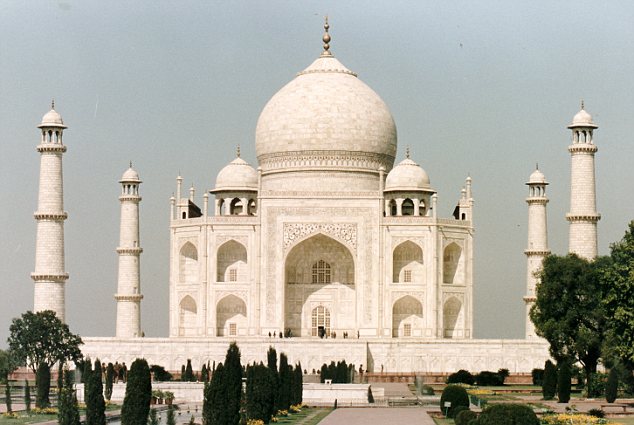 Taj Mahal - Agra