+91 9785166786 / +91 7014886855






Udaipur Tour
Udipur, the "Venice of the East" Ringed by the green Aravali Hills . it is one of the most romantic cities in all of Rajasthan and better Known as "The city of lakes" the dream city of Udaipur comprises enchanting lakes , marble palaces, beautiful garden and old temples . The city was founded by Maharana Udai sing in 1567.
City Palace and Museum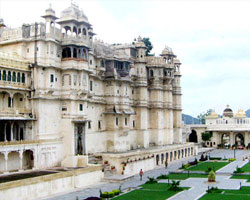 This is largest palace in Rajasthan; the 16th century city palace of granite is situated on the EST bank of The Pichola Lake. In the past it was the winter resort of maharanas. The inner monuments are – The Shish Mahal,Krishna villa,Bhim villa,Choti chitrashali, Dilkush Mahal, Manak Mahal, Moti Mahal, Bari Mahal, the mosaic peacocks at the more Chowk, the Zenana Mahal, various glass and porcelain statues Of Manak or Rubi Mahal. There is a Government Museum at city palace and a wing of the palace houses the hotel.
Sheesh Mayur (Peacock)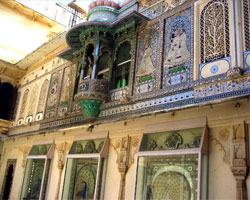 It is situated inside the city palace at the more Chowk. It is beautifully sculptured in colored glass in white marble . Shees Mayur means –the peacock made of glass.it seems very beautiful. The mosaiced coloured glass pieces are used to increase its beauty. it is one of its kind in rajasthan & in India.
Jagdish Tample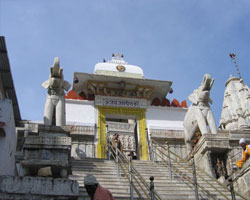 Maharana jagat sing I built the Jagdish temple in 1651, the indo-Aryan style with imposing sculptured fingers at a cost of Rs 1.5 lakhs on the north of the palace. In the 3 storeyed chief temple, the black stone dicty of jagannath or Vishnu is worshipped even today. In front of the temple stands a brass Garuda. A flight of 32 steps leads to the temple yard from the road. There are 4 temples on the 4 corners of the yard-those of shiva, shakti, sun and Ganesh. It is the largest and most splendid temple in Udaipur.
Gulab Bag or Sajjan Niwas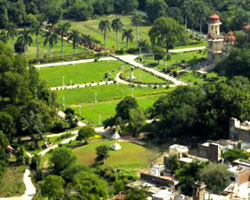 The Gulab Bagh or Sajjan Nivas Garden was laid down by Maharana Sajjan Singh on 100 acres of land in 1859-74 AD. It is situated in the old city south-east side of city palace. In an elegent building, it houses Saraswati Library, which has a valuable collection of old books more than 50 thousands on different subjects. The Aravali Express which is a children train, afters an interesting way of seeing the garden. The garden's other attractions are : Naulakha palace and a Zoo where you can seen Lions, Tigers, Bear, Deers of different kinds, birds and crocodile.
Pichola Lake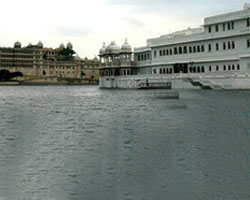 Pichola lake was dug out by a Banjara during the reign of Maharana Lakha (Lakshman Singh) in the 15th century, on a 10 Sq km land. Later on during the reign of Udai Singh it was widened anew. Now the 4x3 km. wide lake surrounded by low hills, palaces, temples, bathing ghats and embankments is a picturesque lake. It has a few islands jutting from it. The city palace is on the eastern bank of this lake. The beauty back view of city palace (Rajmahal) is indescribable. Inside the lake palace hotel. Jag Mandir, Mohan Mandir, Arsi Vilas and a memorial pillar is constructed on Islands. Boating facilities from the city palace's Banrighat Jetty is available trough out the day.
Jag Niwas & Lake Palace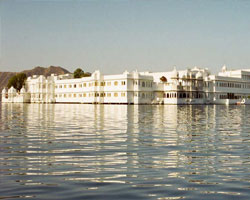 Maharana Jagat Singh II built his summer resort-Jagnivas Palace in 1754,(Lake Palace on the 4-acre) it and on pichola Lake. It is in beautiful surroundings with water on all sides and a hill at the back. The later Maharana as made additions to the palace. Its balconies and windows overlook the lake which makes a pleasant murmur with its rippling waves and lapping. Now, it is a luxury hotel. If you not stay there. You can view it by boat, as the admission have is restricted.
Jag Mandir Palace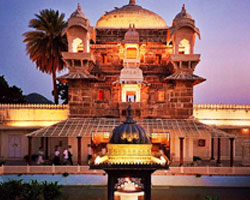 Opposite Jagniwas, on the south of pichola Lake, on another island is the 3 storeyed Jagmandir Palace, the site of celebrations which has a circular dome of yellow sandstone. Is lineel urtuin vesite marble. It was begun by Maharana Amar Singh 1615 and completed by Karan Singh in 1622. Later it was repaired by Karan's son Jagat Singh 1628-52 and give named after him. Its remain prince Khurram's(Shahjahan) refuge. The palace built by different 12 stones, mausoleum of saint Baba Gafoor and white elephants made of marble on the entrance gate are worth seeing.
Fateh Sagar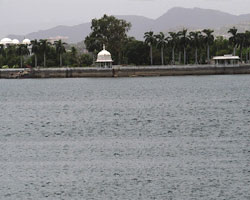 Fateh Sagar connected to the pichola lake by a canal. It was built by Maharana Jai Singh in 1678, when floods destroyed the lake. It was dug a new by Maharana Fateh Singh at a cost of about 6 lakhs. The lake is 2.4 km. long, 1.6 km. wide and 25 feet deep. There is a car road along. Fateh Sagar's embankment named as Rani Road. This elegant lake is surrounded on three sides by hills. There is good arrangement for boating facilities. In past time it was known as the Connaught Dam'.
Ahar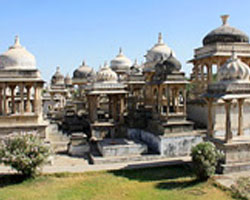 About 2 km east of Udaipur are the remains of an ancient city. The small collection at the Museum here includes some very old earthen pottery. Nearby is the Gangabhar kund where cluster of cenotaphas of the Maharana of Mewar, remaskable pieces of architecture.
Maharana Pratap Memorial (Moti Magari)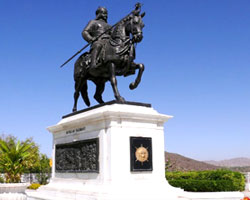 It is situated east side of Fateh Sagar on moti (Pearl) Magri (hill) is the Maharana Pratap's memorial, built in beautiful surroundings it was completed in 1967. It is developed as a memorial of Valiant hero Maharana Pratap. On a white marble platform teh bronze statue of Rana Pratap on the back of his horse, chetak is placed on the top of the hill. Hundreds climb the treelined uphill path to pay homage of Rana Pratap and his faithful horse Chetak-who was die in own battle of Haldighati. There is a Japanees rock garden in the vicinity. A telescope has been installed here to enable you to see around. Timings 9 AM to 6 PM.
Saheliyon-Ki-Bari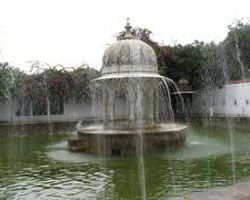 This beautiful garden, situated north-east of Fateh Sagar, was constructed by the emperor of Delhi Maharana Sangram Singh II in 1710-34 AD and presented to as Nazarana. Maharana Fateh Singh (1884-1930 AD) rebivate abd extended painings mirror, fountains and cenotaphs work. Princes with their friends come here for relaxation. The main attraction of this garden is 4 ponds, where lotuses bloom in profusion, four white marble elephants and a novel fountain which palters the water drops, reminds the impression of rain without rainfall.
Dudh Talai(Manikyalal Verma)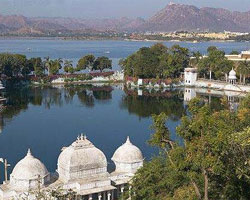 Maharana Udai Singh, the founder of Udaipur, constructed a dam over which a road was constructed in Pichola lake to go to the palaces in the past. The separated small portion is called Dudhi Talai. Later rulers strengthen the door. The beautifully laid down park is situated near the Dudh Talai on the slopes of Machla Magra, hill. You can see enchanting view of pichola lake, jag Mandir, city palace and the old city. A top is karnimata temple worth to visit by ropeway.
Bhartiya Lok Kala Museum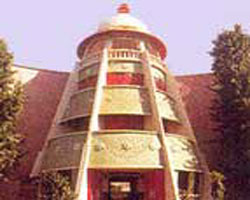 It is the only institution of its kind in india and situated on east side of Panchwati Road between Chetak and Sukhadia Circles. It was completed on March 3, 1963. This India folk arts museum of International standards displays generations of folk art through paintings ornaments, and folk dances. You can also enjoy an enchanting puppet show at the auditorium here. Open from 9 AM to 6 PM. You can also attend Rajasthni dance performance at Mira Kala Mandir, Secotor 11.
Sukhadia Fountain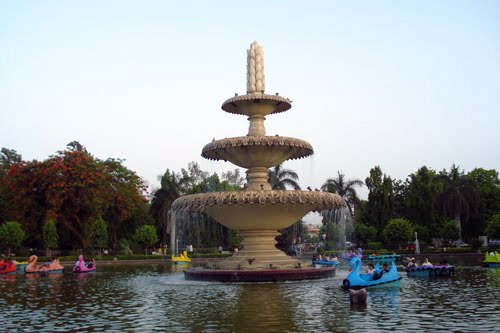 Situated on National Highway No.8 outside the city is a 46 feet high fountain is one of the latest attraction of Udaipur . it was constructed by city Development Board investing 8 lakhs of rupees. This fountain is one of the special fountain of the rajasthan. This fountain is operated in the evening between 7 to 8 PM. You can enjoy the boating in the tank during this time in multicoloured light. Very important persons are received and welcomed here, before entering in the Udaipur city.
The Sajjangarh/Mansoon Palace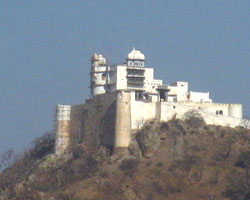 It situated at west side of Udaipur on a heighest steep hill, about 152.5 metres, on which stands a strinking fortified palace. It was constructed by Maharja Sajjan Singh in the 19th century. The hill side is thickly wooded and the former rulers maintained this as a royal monsoon and shooting preserve. One can go by jeep up a steep road and enjoy a beautiful view of the city. From its lofty tower it is claimed that chittorgarh is visible on a clear day. A Safair park has been developed near it-which is a prime attraction of the tourists.
Destination
Tours Gallery