+91 9785166786 / +91 7014886855






Chittorgarh Tour
Chittorgarh is an ancident capital of sisodia Rajputs of Mewar and is symbol of pride and valour . The glory of its men & women still lives on the ruivs and monuments of this "Citadel of Valour & Romance".The city of chittorgarh is situated at the distance of 120 km.away from udaipur from jaipur it is 320km. south- west. Udaisingh built udaipur as his new capiatal.
The Fort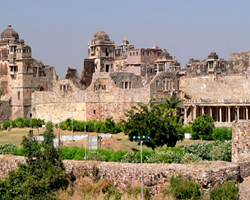 The local point of city, is one of the finest fort. It lies on a 180 meter high hill and spread over in 700 acres. The fort was built by Maharana Kumbha in 1440, A.D. Bapa Rawal captured this fort from the last maurya ruler –man Mauri in 728. There are 7 different gates –The ram in the west is the main entrance gate to the fort. Inside the fort are temples , palaces and other regal fort is today a deserted ruin with reminders of its heyday. It is the largest fort in rajasthsn.
Vijay Stambh (Victory Tower)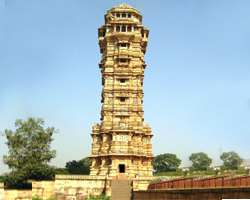 It was built by Maharana Kumbha to his victory against Sultan Ahmad Shah of Gujarat .This 37meter high tower is structure of 9 stories . Its exterior is decorated with sculptures and religious carvings.
Kirti Stambh (Tower of Fame)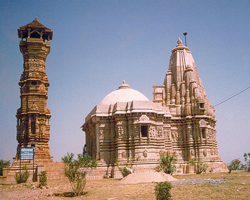 The 22 meter high tower was built by a wealthy jain merchant in the 12th century and is dedicated to Adinath Rishabhdeo , the first of the jain tirthankers.
Rana Kumbha palace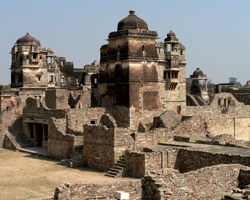 This palace is of great historical and architectural interest .It is believed that in one of the underground cellers ,Rani Padmini and other women commited 'Jauhar brat ' ,immolating themselves on a pyre. This palace is the biggest monument in fort.
Padmini's Palace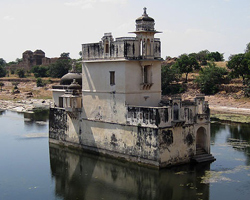 Rani Padmini's Palace is from which Alauddin Khilji (one of the rulers of Khilji dynasty during the sultanate rule over India) was allowed to watch a reflection of the Rani by replacing the mirror at such an angle that even if he turned back he could not see the room. Khilji had been warned by the Rani's husband Rawal Ratan Singh that if he turned back they would cut his neck.
Merra & Kumbha Shyam Temple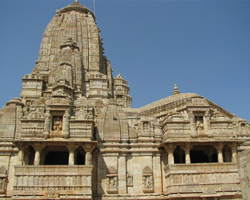 This temple is accocited with peotess and great devotee of lord Krishna – Meerabai. She was the wife of Ram Bhojraj nand is set to have consumed poison sent by Rana ,but servived because of lord Krishna' s blessing.
Kalka Mata Temple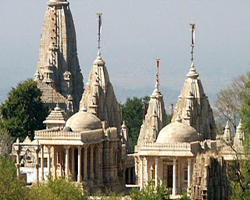 A temple of mother Goodness Kali is the symbol of power and valour. It was built a sun Temple in the 8th century and was converted into kali mata temple in 14th century .A gret fair is held during navratri.
Government Museum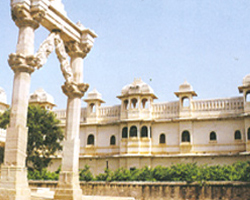 The magnificent 'Fateh parkash mahal' has been converted into a museum now. It has collection of sculptures from temples and building in fort.
Destination
Tours Gallery